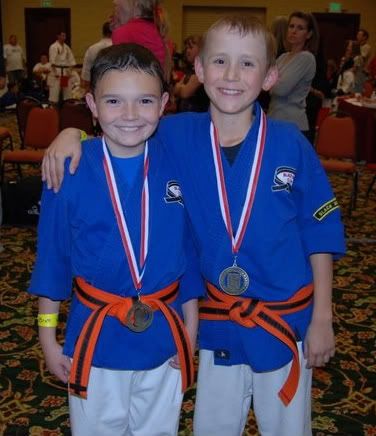 Karate
Temecula Karate classes are a fun and interactive way for your child to develop his or her character, learn new skills and make new friends. The benefits Martial Arts offers are seemingly endless!
Our carefully developed curriculum allows for our students to learn at their own pace and at the same time feel as though they are progressing on their way to becoming a black belt and beyond. Here at Pro-Am, we believe becoming a black belt doesn't just mean wearing the belt; it's a state of mind that reflects good character which includes a positive attitude, self-control, discipline, good habits, and leadership.
Our Temecula and Murrieta Karate program focuses on teaching your child self-discipline, mental focus, commitment to goals, and the values of hard work and self-control. Our motivating instructors have developed a curriculum that allows our students to apply these life skills not only in class, but in everyday life as well. Your child will also be developing strength, balance, flexibility and self-defense.
In class your child will learn life skills and martial arts techniques, while at the same time having fun by playing various martial arts games and interacting with classmates and the instructors. Our facility offers a very family friendly environment with lots of fun activities for our members and their families to enjoy such as Movie Nights, Pizza Parties, and public demonstrations. We're the top choice for martial arts in Murrieta, Temecula and the surrounding areas, and we know you'll love being a part of the Pro-Am family!
Some of the benefits of our Karate program include:
Leadership skills
Respect
Self Discipline
Focus
Improve home conduct
Confidence
Listening skills
Improved school work & behavior
Self Defense
"We are truly pleased with the programs and facility at Pro-Am. We have noticed a significant difference in our child's confidence and focus on daily activities. His demeanor and focus at school, and attitude towards learning and self pride has increased. Our child's association with Pro-Am and their structured environment continues to build self confidence within our child."
-L. Conway
Murrieta, CA
---
"Since my son has started this program, I have noticed tremendous improvements in his attitude and manners. He has become a mature, respectful boy. He used to throw fits, fight, and have emotional breakdowns – now he no longer does that. Being a kid in a military family is not easy with both his dad and I deploying. Now he has something in his life that remains constant and provides stability for him. All the instructors are excellent and hold him to high standards. This program has changed our lives. I plan to continue to be stationed in California so he can continue to be a part of the Pro-Am family."
-J. Lilley
Murrieta, CA